2008 to 2018: AEF celebrates 10th anniversary
On 28 October 2008 seven international manufacturers of agricultural machinery and two associations founded the Agricultural Industry Electronics Foundation (AEF). Ten years later eight manufacturers and three associations as premium members as well as 220 additional members support the AEF's objectives: improvement of the multi-vendor compatibility of electronic and electric components of agricultural equipment as well as securing transparency when it comes to compatibility issues.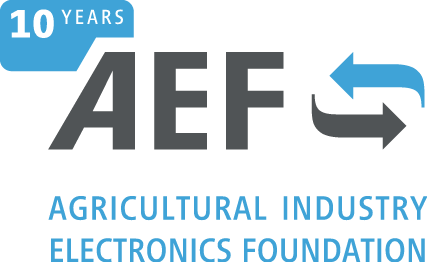 The organization will celebrate this special anniversary on 19 September 2018 in Bologna in connection with the Plugfest which takes place from 18 to 20 September 2018.
"We would like to celebrate this anniversary with those people who have contributed to this success story", explains Norbert Schlingmann, General Manager of the AEF. Among other topics the focus of the celebrations in Bologna will be on a review of what has been done so far and an outlook on future challenges.
In line with the anniversary year the AEF presents a further development of its logo which is now more concise, simple and therefore more up-to-date after the relaunch. In all communications, the anniversary logo will be used in 2018. An integrated element as part of the logo will advertise the first 10 years of the AEF's existence.
---
More News: