AEF Spring Plugfest and Conference Day in Lincoln, NE, well attended
The 16th AEF Plugfest took place from May 8 – 11, with a total of more than 130 attendees, hosted by the Nebraska Tractor Test Laboratory (NTTL), one of the five AEF ISOBUS Test Laboratories.
Location of the event was once again at the Embassy Suites, Lincoln NE, USA. The Engineers and Visitors from member companies gathered here to test the compatibility of their ISOBUS products.
Another AEF Conference Day was also available to members and visitors. This time especially targeted at marketing people and lasting only half a day. Attendees were provided information necessary for marketing ISOBUS products. The chairman Peter van der Vlugt opened the event, welcoming the attendees and summarized the reason why the Plugfests are so successful: "Plugfests provide companies the possibility to test just software against one another, instead of live tractor/machine combinations, this was a breakthrough idea for the AEF".

More than 130 attendees at Spring Plugfest in Lincoln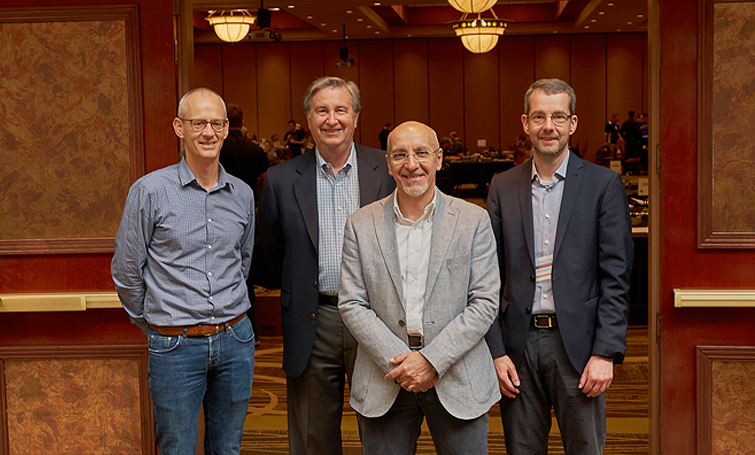 AEF Chairgroup in Lincoln. Left to right:
Chairman Peter van der Vlugt, Secretary Mark Benishek, Vice Chairman Marcello Mongiardo, General Manager Norbert Schlingmann
Over the course of three days in Lincoln participants performed more almost 1000 tests at 28 stations. 30 minutes were set aside for each test. The upcoming European Fall Plugfest will take place from October 16th to 20th at Maritim Hotel Stuttgart, Germany.
---
More News: