High Speed ISOBUS (HSI) Demonstration at AGRITECHNICA 2021 – Support Needed!
Exactly 20 years ago at Agritechnica 2001 the first ISOBUS systems were demonstrated with the Universal Terminal application (even though the first International Standard release of ISO 11783 part 6 was not published until 2004). This demonstration was only possible due to some multi-day meetings throughout 2001 where engineers from different companies got together, connected their ECUS and displays together, and tested. They then spent a lot of time analyzing CAN logs and discussing how the first parts of the ISO 11783 standard should be interpreted. The gained knowledge was then fed back into their code and the draft of the standard.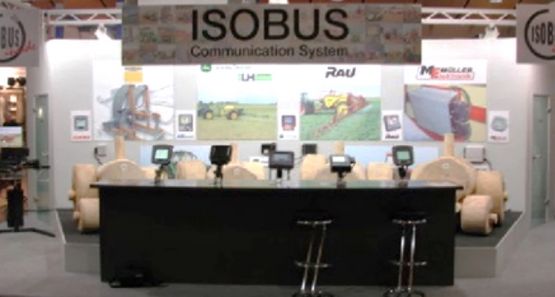 Agritechnica 2021 will be the 20th anniversary of this milestone and is considered the right time to demonstrate a High Speed ISOBUS System with specific customer use cases on the AEF Booth!

The HSI project team has been working on the next generation of the Ag Network standard since 2014. Needless to say from the technology point of view, a lot has changed since that work started, most significantly the creation and availability of the one-pair Ethernet standards, including the 1000BASE-T1 that the HSI team are now designing to. There are sub-groups focused on the physical layer (connectors, cable, PHY), the architecture (machine topology, minimum and more typical expectations), and the protocol (network management, discovery, and command and control).
Work is progressing well in the sub groups, but in order to put together a demonstration for Agritechnica 2021 additional support is needed from the AEF member companies who have some experience in this area, either with Ethernet protocols such TCP and UDP, the existing ISO11783 standard, and existing digital camera systems and their protocols. Given the current situation regarding travel, the possibility to get together and have some dedicated HSI plugfests throughout this year seems very limited, however, unlike 20 years ago the technology needed for an HSI demonstration is thankfully much more mature!

What's more, working on an HSI demonstration is aligned to the goals of the project team. This is not just a demo to be put together and then cast aside in December. Certainly, there will be some learned lessons, not all of which end up in the final HSI product, but the participating companies will also help refine key points of the HSI deliverables with this accelerated learning and prototyping.

So if you/your company can commit with some hardware, software, and engineering resources, then please get in touch with the HSI project team leader Dave Smart at: david.smart spam@spam.de aef-online.org
---
More News: