New project team: Medium Voltage
On 26 September 2018, experts from several AEF member companies met to launch the new Medium Voltage (PT12) project team. After defining the project charter first, the responsibilities were agreed Team leader is Alexander Schultz-Storz and deputy is Tadeja Kajtazi. PT12 was initiated at the request of the Technical Committee for Electronics, TA-E, of the German Engineering Federation (VDMA).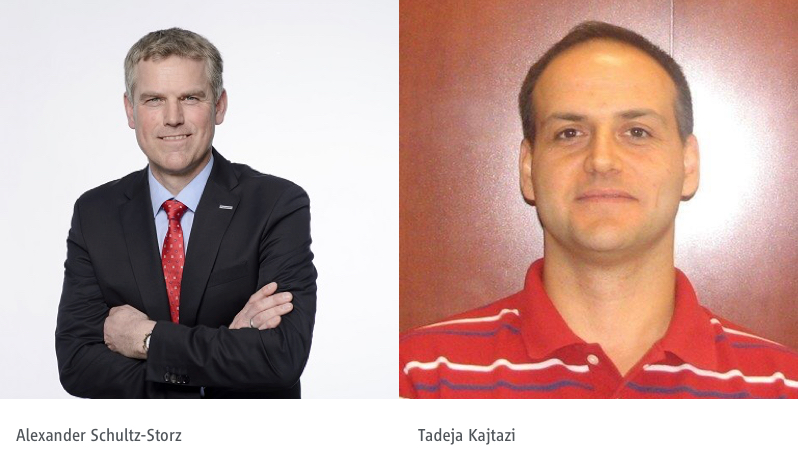 One of the main tasks of PT12 is to draw up guidelines for the medium voltage range: both for the technical requirements (voltage, current, power) and for the connector. The team members can draw on their experience gathered in the High Voltage (PT7) project team.
With Alexander Schultz-Storz and Tadeja Kajtazi, the project team is headed by two proven experts.
Alexander Schultz-Storz is a Mechanical Engineer (BA) and Master of Business Administration (MBA). He can look back on a total of 20 years of experience in the automotive supply industry. He is currently employed at Panasonic Industry Europe in Ottobrunn near Munich. At this company he was initially responsible for new customer business for two and a half years and for OEM sales for Germany and America for a further two and a half years. Since 2017, he has headed the "Cross Value and Open Innovation" department. Before joining Panasonic, Alexander Schultz-Storz spent three years at Mann+Hummel as an Applications and Sales Engineer. He spent 16 years with Hitachi Automotive as Senior Sales and Business Operations Manager.
Tadeja Kajtazi is responsible for a global team of engineers developing power generation, distribution and management solutions for Ag Industry within CNH Industrial. He has more than 15 years of international experience in design, development and industrialization of on- and off-road electrical systems and components. Furthermore, he has profound knowledge of electric power generation and distribution technology industry and trends.
Experts from the AEF member companies work together in international teams, each of which is entrusted with a specific topic. The spectrum ranges from solving (compatibility) problems related to ISOBUS to electric drives, high-speed ISOBUS and farm management information systems. This ensures that the AEF focuses on current and future industry requirements.
For more information, please contact: office spam@spam.de aef-online.org
---
More News: