TIM – future-proof communication between tractor and implement
TIM (Tractor Implement Management) is a cross-product and cross-manufacturer ISOBUS solution where the implement controls certain tractor functions and optimizes the working process. What is new is that the implement sends information to the tractor via standardized and secure communication which leads to an optimization of the overall system. With TIM, the farmer works more precisely, effectively and economically while simultaneously increasing quality. TIM saves time and money. Field operations become technically simpler and more convenient as TIM takes over tiring tasks.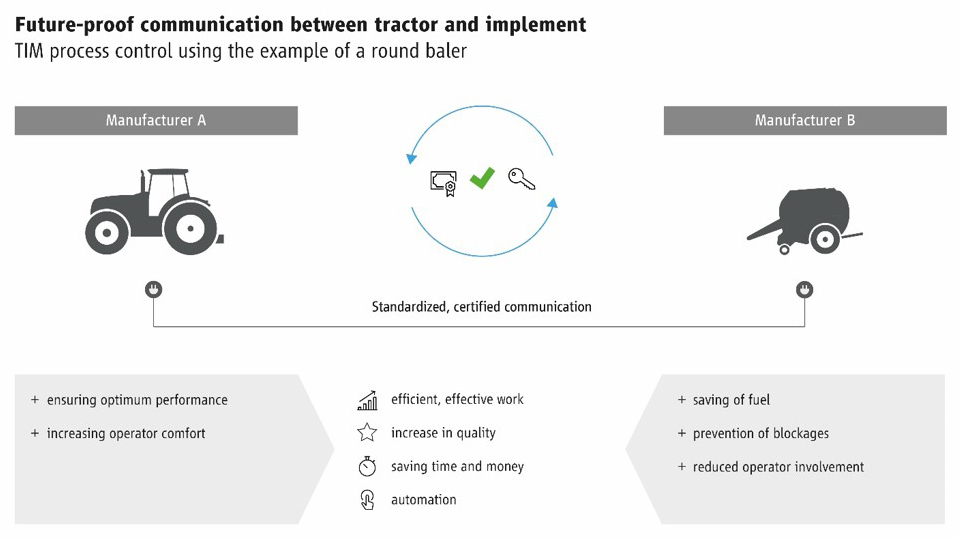 When TIM solutions were first introduced back at Agritechnica 2009, only machines of the same manufacturer exchanged data. There was no secure communication. In the following years, individual agricultural machinery manufacturers tested this technology in various machines until it was ready for the market. The basic idea was: The implement controls tractor functions such as forward speed or remote valves to relieve the driver and to increase machine performance and productivity. However, there was a restriction that a machine combination from different manufacturers was not possible.
Standardized solution with digital certificates
The AEF has taken up the basic idea of TIM and made decisive progress with a new infrastructure for secure data exchange. This standardized solution with digital certificates is the only way to ensure manufacturer-independent cooperation between tractor and implement in terms of maximum brand flexibility and data security.
You have to know that TIM is based on bidirectional communication, in other words, an exchange enabling data to be transmitted in both directions and allowing the implement to play the leading role. ISOBUS forms the basis for an exchange of data. The implement is only able to play the leading role if the data transmission is secure and absolutely reliable.
For this purpose, AEF has developed an infrastructure that enables secure communication based on proven standards, as used in electronic banking systems. This standardized solution - in conjunction with digital certificates - is necessary so that the implement can control certain tractor functions and can actively carry out the work process without the influence of the driver. Both machines trust each other so that the farmer can work more efficiently.


The advantage of TIM
Practical experience
TIM makes optimum use of the installed performance potential for higher cost-effectiveness and productivity of the overall system. Automatic processes replace manual operation and prevent the driver from exceeding his capabilities. He can concentrate on the result.

Business and labor economics
TIM increases quality and efficiency, regardless of manufacturer brands. The implement "knows" the process: sensors take control, the tractor provides the power.

Environment and energy
The baling process is being optimized e.g. by automatic monitoring of the crop being picked up. The baler decides how fast the tractor should drive to prevent blockage. The tractor speed is continuously adjusted and optimized which has a positive effect on fuel consumption.

Work facilitation and occupational safety
Process optimization makes work easier and increases comfort, quality of harvesting results and work safety, regardless of the implement. In a baler, for example, the risk of injury when emptying the pick-up chamber is reduced because it will manage the speed to avoid clogging

Summary and outlook
Secure Communication is of fundamental importance for digitized agriculture. Here, agricultural technology must take on a pioneering role with a manufacturer-independent application. The standardized solution with digital certificates fulfils this condition and thus offers potential for further applications, such as wireless field communication. This solution forms the basis for future-oriented developments in the entire field of agricultural engineering.

If you have any questions about TIM, please contact: Summary and outlook
Secure Communication is of fundamental importance for digitized agriculture. Here, agricultural technology must take on a pioneering role with a manufacturer-independent application. The standardized solution with digital certificates fulfils this condition and thus offers potential for further applications, such as wireless field communication. This solution forms the basis for future-oriented developments in the entire field of agricultural engineering.

If you have any questions about TIM, please contact: office spam@spam.de aef-online.org
---
More News: