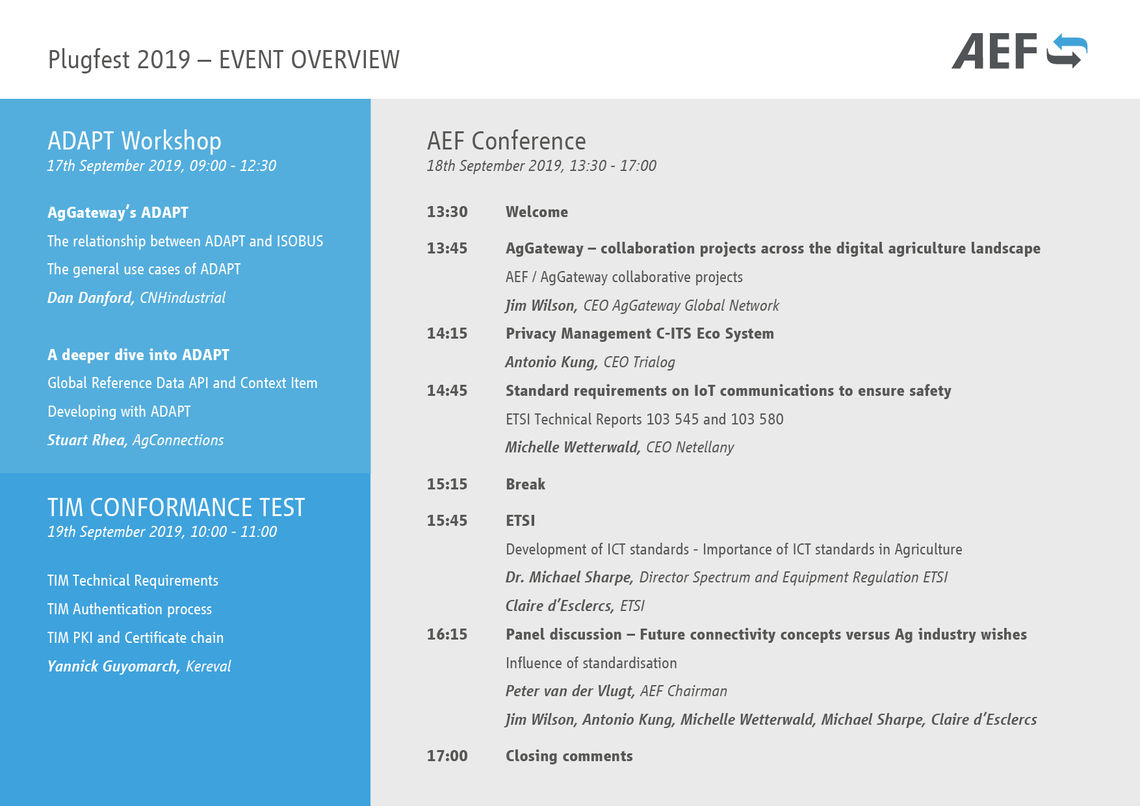 ---
Tuesday, September 17th
09:00am – 12:30pm: ADAPT Workshop
Wednesday, September 18th
01:30pm – 05:00pm: AEF Conference
Thursday, September 19th
10:00am – 11:00am: TIM Conformance Test
---
Tuesday, September 17th
08:00am – 08:45am: AEF Plugfest Equipment Setup
08:45am – 09:00am: Welcome Announcement & Kick-off
09:00am – 05:30pm: Plugfest Testing/ TIM
Wednesday, September 18th
08:30am – 05:30pm: Plugfest Testing/ TIM
07:00pm – 10:00pm: Plugfest Dinner
Thursday, September 19th
08:30am – 05:30pm: Plugfest Testing
---
Monday, September 16th
01:00pm – 06:00pm: AEF PT09 FMIS Meeting
01:00pm – 06:00pm: AEF PT04 Service & Diagnostics Meeting
Tuesday, September 17th:
09:00am – 06:00pm: AEF PT04 Service & Diagnostics Meeting
Wednesday, September 18th
09:00am – 12:00pm: AEF General Assembly
09:00am – 05:30pm: AEF PT12 Medium Voltage Meeting
Thursday, September 19th
08:30am – 05:30pm: AEF PT06 Communication & Marketing
08:30am – 05:30pm: AEF PT05 ISOBUS Automation
Friday, September 20th
08:30am – 04:00pm: AEF PT01 Conformance Test
08:30am – 04:00pm: AEF PT03 Engineering & Implementation
» Register now for AEF Fall Plugfest 2019
---
TIM Test Stations:
In addtion to the AEF Plugfest testing, TIM Test Stations including Conformance Test will be available at the Plugfest.
More details will be provided soon.
Participant/Visitor Registration
Equipment Registration
Late Visitor Registration
Proposed Test Matrix Review
AEF has blocked a limited number of rooms spread over 21 hotels located less than 1,5 km from the Conference Center where the workshop and the meetings will take place until July 23rd.
After this date, the remaining rooms in the block go back to general inventory.


Become a sponsor
for AEF Fall Plugfest now

The preparations for the AEF Plugfest in spring, which will take place from 17 to 20 September in Antibes (France) are already in full swing.
Be there when a knowledgeable audience meets to test and exchange ideas and promote your company as a gold, silver or bronze sponsor. We have put together three sponsoring packages that offer you a variety of presentation options. Please refer to the PDF for detailed information on services and costs.
If you are interested in sponsoring, we look forward to receiving your feedback at office spam@spam.de aef-online.org.
---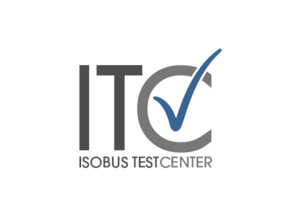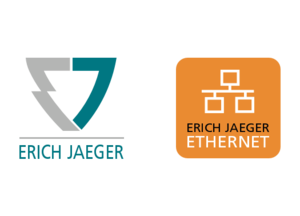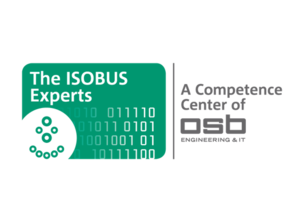 ---