Review: Spring Plugfest 2022 in New Orleans in conjunction with Commodity Classic

After the cancellations of the last few Plugfests due to the pandemic, this was the first face to face AEF Plugfest since September 2019. And it was the first Spring Plugfest organized in conjunction with the Commodity Classic, America's top agricultural convention and trade show that took place in New Orleans from March 10 – 12 at the Ernest N. Morial Convention Center. The partnership between the AEF and the Association of Equipment Manufacturers (AEM) facilitated the opportunity for the Plugfest to be held in conjunction with the progressive Commodity Classic agriculture trade show.
The Plugfest itself took place from March 9 – 11 and provided again an opportunity for ag equipment software engineers from all over the world to test the compatibility of their ISOBUS products, putting aside competition and working together for the good of the agricultural industry. This year's event attracted 77 attendees (35 participants, 42 visitors) from 31 companies and with 16 server devices, 16 client devices and two FMISes there was a total of 228 different server / client combinations. For the first time, beside the face to face slots, AEF offered hybrid testing slots, for this 8 virtual participants also joined the sessions.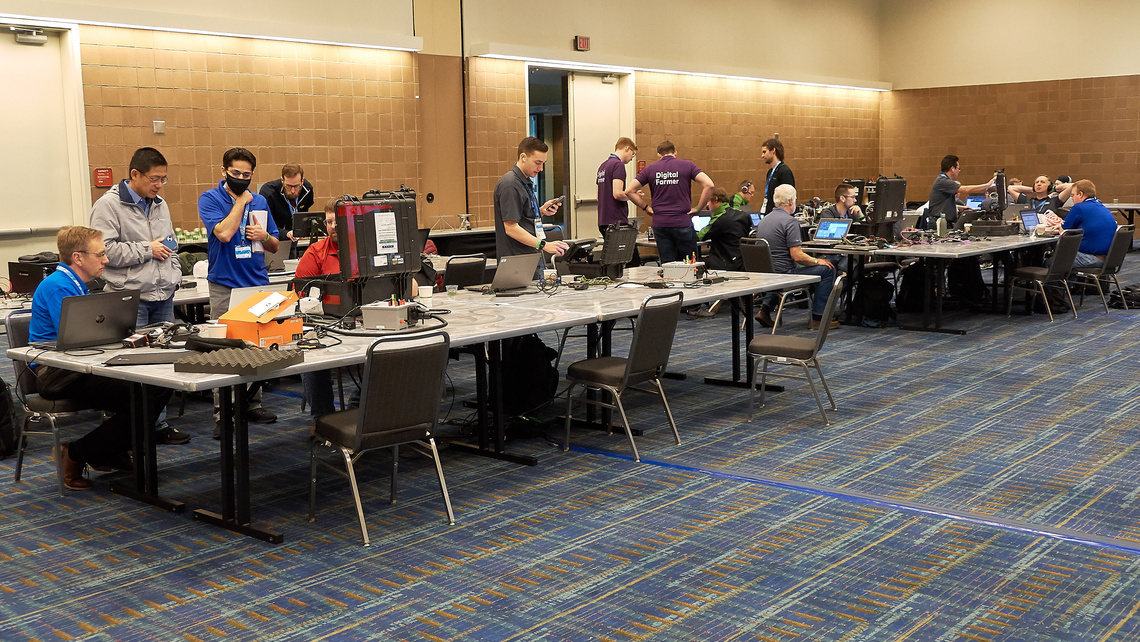 In addition to the three-day Plugfest event, two AEF team meetings were held: The ISOBUS Integration Team met the day before the Plugfest started, as well as the High Speed ISOBUS team on Wednesday of this week. Moreover, Dave Smart and Volker Brill, team leads of the AEF High Speed ISOBUS team, with their team, presented for the first time a High Speed ISOBUS demonstration and explained the new technology to a broader public. On Thursday evening, AEF organized an Off-site Plugfest reception in the Crescent City Brewhouse, providing a great opportunity to exchange ideas, especially after the long period without face-to-face meetings.
Plugfest attendees were requested to wear the branded clothing of their company for all three days of testing as there were a number of tours through the plugfest, and the branded clothing was an effective way to show visitors how competing brands collaborate on the subject of ISOBUS. The tours included two groups from the AFA (Agriculture Future of America), one group of Farmers, the AEM's Ag Technology Leadership Group, some ad hoc visits from AEM Ag Sector Board members and a few organized visits from the media.
Thanks again to AEM and the Commodity Classic's organization team for their great support. Although challenging at times, we are very happy that it was a successful Plugfest and plan to hold the 2023 Spring Plugfest again in conjunction with the Commodity Classic. This is scheduled to take place in Orlando, Florida from March 9 – 11
But for now, we are looking forward to the next Plugfest which will be held in Bologna, Italy October 17 to 21, 2022.