AEF ISOBUS Database – Even More Improvements!
Following on from last summer's updates and thanks to the continual feedback from the AEF Service Council, the Database Service team have been hard at work and have recently released even more improvements to the AEF ISOBUS Database.
The ability to see the functionalities of individual ISOBUS ECUs that are included in a product, such as a tractor, was released last summer and is named "Module View". This has been further enhanced with a pop up to explain the colours of the functionality squares, a grey outline means that the ISOBUS product is not certified for that functionality, whilst a blue outline means that it is certified for that functionality and finally a solid blue square means that that functionality can be used by all the ISOBUS products shown in that combination, in other words ISOBUS compatibility!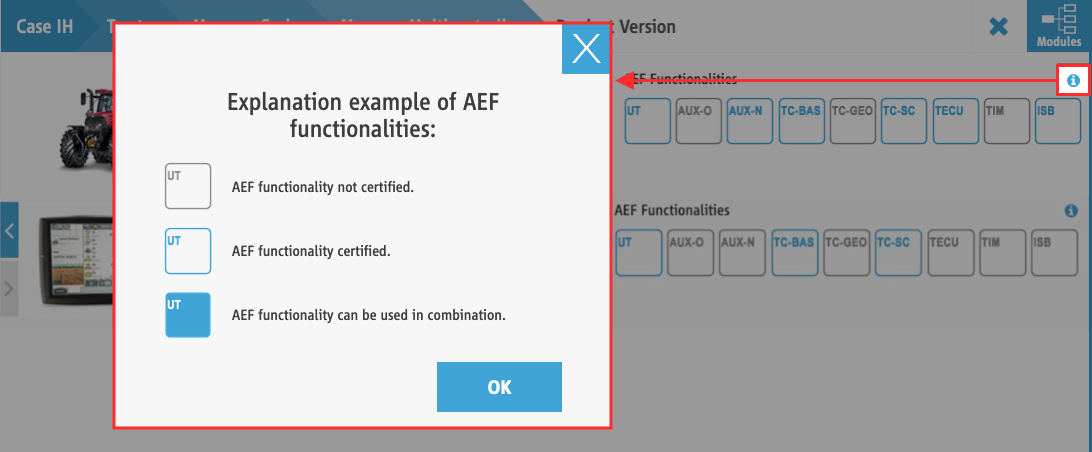 Now, when you are looking up an ISOBUS product, you do see the blue outline and you know that it has been certified for that functionality, but what if there are options, for example with TC-SC, how many sections are supported? By selecting on the specific functionality blue square a pop up appears and it provides details of the supported options. For functionalities such as TIM and Task Controller this additional level of detail will be extremely useful for all AEF Database users.



Finally, when you are looking up a combination of ISOBUS Products in the Database and you have found some compatible functionalities, as shown by the solid blue squares, then when you select on one of those squares the pop up will show the compatibility of the combined options for that functionality. Take a look at the screen shot below of a TC-SC combination: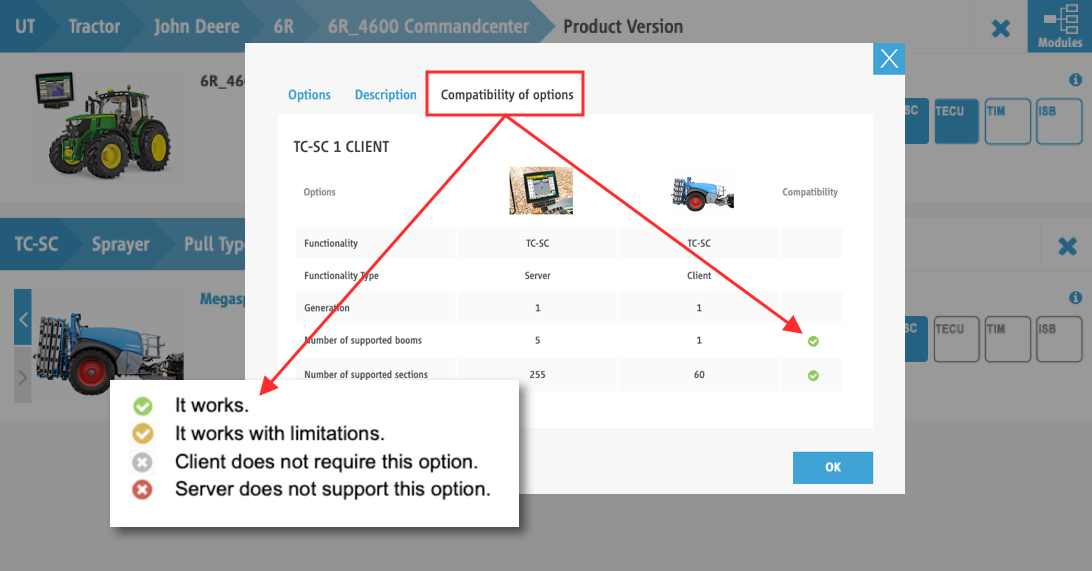 The ability for DB users to view this additional level of information on AEF ISOBUS certified products will be extremely useful, not only for farmers, or dealer sales people when looking to buy or sell an ISOBUS product, but also for dealer service and OEM product support when investigating an issue of ISOBUS compatibility.

Users of the AEF DB APP will also be able to benefit from all these enhancements with the next release of the APP which is scheduled for the start of August.
---
More News: