AEF ISOBUS Database – Improvements
The latest version of the AEF ISOBUS Database was released in the middle of summer and included the highly anticipated changes to the Product Upload Process.

This is pleasing news for the Product Management folks in the AEF member companies. Typically, the Product Development teams are responsible to get the ISOBUS ECUs certified, but once the certificate is loaded in the Database it is the responsibility of Product Management to upload the product information i.e. model names/photos and then associate it with the relevant certification. Prior to the mid-summer release updating product information was a complex and subsequently not so enjoyable task!


Now there is a new step-by-step wizard which Product Management can use to upload their products intuitively. Multiple products which use the same ISOBUS ECU are now (thankfully) all updated at the same time when there is a new certification. In the past, each product needed to be updated individually.
More information about new functions and "how to use it" can be found within the AEF Product Upload Manual in the Download -> Instruction section.
The other improvement that was included is related to how ISOBUS products consisting of more than one ISOBUS ECU are viewed. For instance, a tractor typically consists of a TECU, a UT and an AUX joystick. Before the July release the AEF ISOBUS Database was showing the aggregated product only, i.e. only the tractor.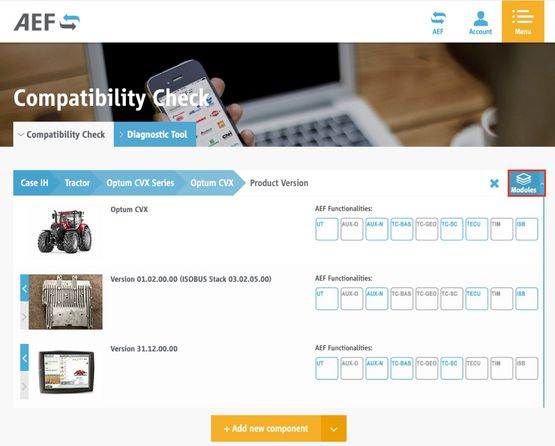 Now this granularity is available to the DB user with the new modular view! First the user would look up the ISOBUS Product and would see all the supported functionalities as before. However, by selecting the down arrow on the right-hand side the individual ISOBUS ECUs and their associated functionalities are then displayed. Dealers will find this additional level of detail very helpful, especially when having to diagnose any issues!

The final improvement that was released is the ability to create PDFs in order to save the Compatibility Test Results.
---
More News: