ATLAS - High Level Architecture
Τhe overall goal of the Horizon 2020 project "ATLAS" is the development of an open digital Network through which information and services become available to the end-user in an easy, protected and automated manner. Through extracting new knowledge using existing Original Equipment Manufacturer (OEM) platforms and machinery, not only is the user experience expected to improve but also the farm's performance is optimized.
The ATLAS Network will overcome existing interoperability hurdles by enabling the seamless data exchange between all possible data generators and consumers in the agricultural business. All industry partners in the AEF team agree that the OEM data platform must be the first access point for retrieving the data and not directly at the machine level (Fig. 1). This ensures that OEMs continue to comply with all EU safety and security regulations without compromising the data rights of the farmer.
Figure 1. The ATLAS eco-system. AEF aims to define standards for easy and safe data exchange between OEM data platforms.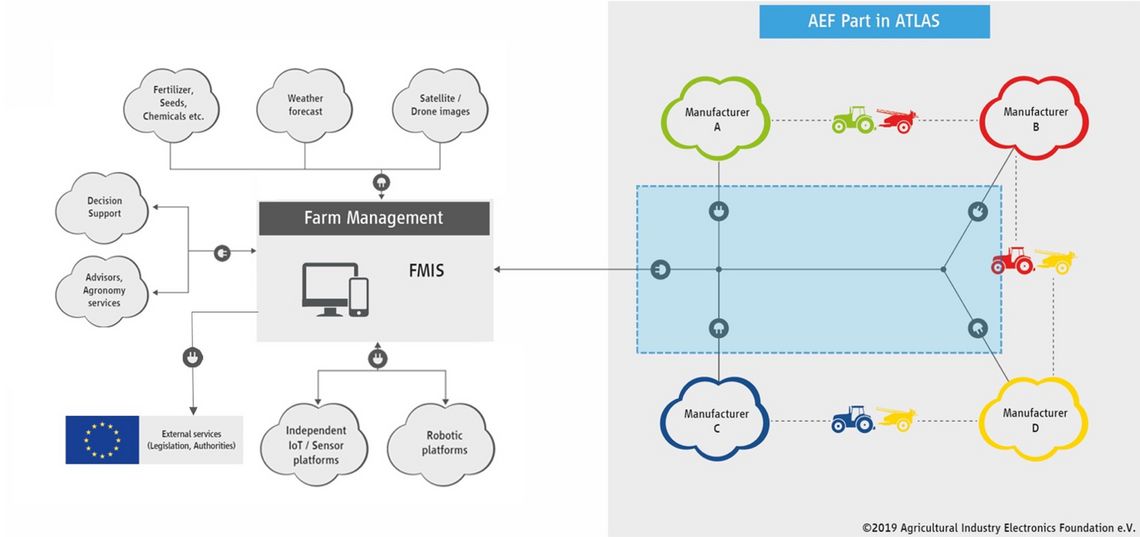 To this end, the ATLAS Network is built upon a service-oriented architecture which enables the connection of sensor networks, data platforms and data processing services in a consistent and easy way. In order to bridge existing interoperability gaps, ATLAS will deploy a type of service-mesh architecture. This means that every participant remains autonomous and responsible for their own proprietary services. These so-called 'Data Services' follow a template with pre-defined layers and a number of supported data formats to meet the requirements of different use cases. This renders the ATLAS Architecture a truly scalable framework for the whole ag sector.

Through the ATLAS Project, the industry aims to develop a blueprint of an interoperability ecosystem for the ag sector, thus avoiding the farmer having to resort to a multiplicity of systems, models and interfaces. The farmer can then utilise all data sources to be more productive in their daily operations. Whilst ATLAS is an EU-funded project, the intention of AEF is to ensure that the solutions developed are suitable for implementation globally.

The ATLAS project will run for 42 months until March 2023 and involves 30 partners from Germany, Switzerland, Greece, Italy, Romania, Spain and Latvia.
---
More News: